Sub ohm vaping has become one of the hottest trends in vaping today. Sub-ohm devices offer a range of advantages over more common types of vapes: their cloud production is unrivaled, they have lower power resistance, they're incredibly flavorful, and they're super fun to use.
Sub-ohm vaping used to a a completely mystical process, involving complicated and hazardous manual setup involving detailed knowledge of batteries and electrical wiring that simply made the whole concept inaccessible to most vapers. These days, sub-ohm devices are much more user-friendly, making them available to vapers of all backgrounds and levels of experience.
Let's go over the best sub ohm tanks on the market today.
Vaporesso - Cascade Tank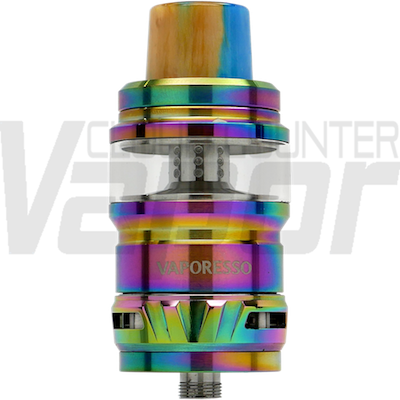 The Cascade is easily one of the best sub-ohm devices on the market today. Vaporesso is a vape manufacturer with a deep passion for the lifestyle and vive around the world's community of vapers. Their technology is ingenious, offering their customers something new with each and every iteration of their products.
This tank is designed with convenience and usability in mind for the end-user. Every piece and part of this tank is plug-n'-pull, so there are no screw-in threads that get annoyingly fused together after lots of vaping. Plus, this makes it far easier to regularly clean the coil and keep it gunk-free. Clean vaping is the best vaping!
The Cascade features a three-slot air intake for smooth and easy airflow, making it really easy to draw from, and even helping with the throat hit from harsher e-liquids. On the base, it's got a switch that lets you change the amount of airflow, giving you the option to use more energy for a more powerful hit, or to keep the airflow up for a smoother hit.
The tank comes with two coils: the .4ohm GTM 2 coil, and the ultra-low resistance .1ohm GTM 8 coil. It also includes an adapter so that you can use Vaporesso's GT atomizers, if you've already started building your collection of Vaporesso gear.
As you can see, The Cascade Tank shows off a sleek design and a range of sexy colors that make it stand out among other tanks as an aesthetic masterpiece. Not only does it look cool and work great, but it's even got an enormous 7ml capacity to keep refills to a minimum. While it's a somewhat bulky device, that's a common trait amongst almost all sub-ohm tanks, so we can't really knock it for that.
The vapor delivery is quick and very smooth; as you draw, you'll get an even and consistent amount of vapor, making it really easy to gauge exactly how big a hit you're taking at any given time. You'll quickly notice that you get much more cloudy vapor on a smaller hit than you did with above-ohm devices, particularly higher PG blends. If you're a cloud-chaser, The Cascade Tank is an awesome choice that you can get for a great low price.
Recap
| Pros | Cons |
| --- | --- |
| Customizable settings | Large size |
| Massive e-liquid capacity | $80 |
| Performs well at higher wattages | |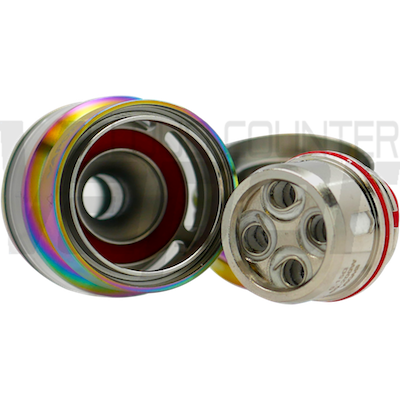 The Cascade Tank earns a spot on our list of the best sub ohm tanks because it outperforms its competitors, and does so for a great value. So, where did it come from, and how did it get to be such a pristine product?
Vaporesso's driving philosophy is to connect vapers with products that are safe, easy to use, and that have a wide appeal to users from all walks of life. They aren't just trying to invent the next hot coil; they constantly strive to fundamentally change the state of the vaping industry with their products. No matter what draws someone to vaping, Vaporesso wants to be there to fill their needs and give them the most satisfying vaping experience they can find anywhere.
Not only does Vaporesso build their products with care, passion, and devotion, but they heavily invest in R&D to constantly explore the boundaries of what makes vaping great. They're very in touch with their fans, too, meaning they can offer the features that vapers want to see, while doing so in a way that no other vape company is able to do.
Besides their innovation alone, Vaporesso products are crafted with the utmost skill and dedication. Each and every piece is scrutinized meticulously and given the attention it needs to go out into the market operating at its best. Their products blow regulatory requirements out of the water, boasting unparalleled safety and reliability. Operating since 2006, they have years and years of navigating the complicated vaping industry, and they have a lot of success to show for it. We're big fans of Vaporesso, and we can't wait to see the next big hit they bring to the vaping world.
---
Uwell Crown 3 Tank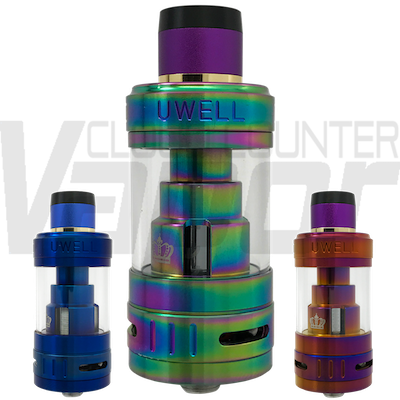 The Crown 3 is among the most insanely popular sub ohm tanks you can find, and for good reason. Its manufacturer, Uwell, is among the most customer-centric companies you can find, even beyond the vaping industry. How else can you be sure you're delivering a top-notch product every single time?
The Crown 3 by Uwell is the most recent edition of the same maker's famous line of products, the Crown tank. The Crown 3 boasts a modest 5ml e-liquid capacity, top-filled for your convenience.
This device is really easy to fill as you go, but doesn't have such a small tank that you need to constantly refill after just a few hits (like so many "value" brand tanks).
It's got a very easy-to-use threaded cap for filling at the top, and its coils are threadless, instead, being made with similar popular "plug n' pull" connectors to The Cascade Tank.
One of the primary features of the Crown tank is its specialized chimney design, carefully tempered to help combat condensation to keep your device clean and free of adulterants.
It features unique coils that are built to give you just the right ratio of flavor to vapor production. This is a result of the proprietary parallel-running coils, also installed with plug-n'-pull connectors so you can replace your coils in the blink of an eye.
Included in the package, you'll get two different coil options, just like The Cascade Tank. One coil measures in at .25ohms and is rated for 80-90W, with the other being a little more resistant at .5ohms, rated for 70-80W.
The Crown 3 tank is incredibly simple to figure out and use. It falls at #2 on our list, but honestly, it's probably the #1 choice for a beginning vaper looking to get into sub-ohm vaping.
It takes little more than routine cleaning and maintenance to keep this tank performing at its peak, and once you've mastered this one, you'll have a much more thorough understanding of sub-ohm vaping and how other devices work, too. We like the balance of flavor and cloud production; the flavor isn't too strong, while we can chase killer clouds with ease.
We love this tank for its accessibility, but it also looks good. It comes in range of color options to suit your style, and it's got a very reasonable price tag. Whether you've tried the Crown 1 and 2, or you're new to sub-ohm vaping, we know you'll have a long and happy partnership with your new Crown 3 tank. There's practically no more easy-to-use tank on the market.
Recap
| Pros | Cons |
| --- | --- |
| Stainless steel body | Can burn through coils quickly |
| Quartz chamber | |
| Wide drip tip | |
| Top-fill gasket blocks leakage | |
| Big tank capacity | |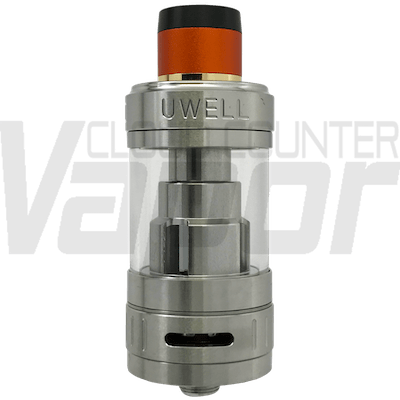 Uwell uses only the best materials available in their rigorous manufacturing process, cutting no corners in delivering a product that is safe, reliable, and long-lasting. Not only do they insist on a highly-focused manufacturing team, but Uwell also has a full R&D team working tirelessly to find new innovations in the vaping industry.
Uwell releases new products regularly, always trying to stay ahead of the curve and deliver a vaping experience that you can't find anywhere else. If you've found an imitator, it's a good bet they don't deliver quite as well as a Uwell tank.
Uwell doesn't model itself after the industry. They're not out to slay the competition; rather, they know their products stand on their own, and that's the biggest reason they've ascended to stardom in the vaping industry.
If you aren't sure which vape tank manufacturer is right for you, then remember Uwell's top three priorities: providing top-notch customer care, offering only the best products directly to their customers, and building trust with their fans. There aren't many more honest companies out there.
---
Smok TFV12 - Prince Tank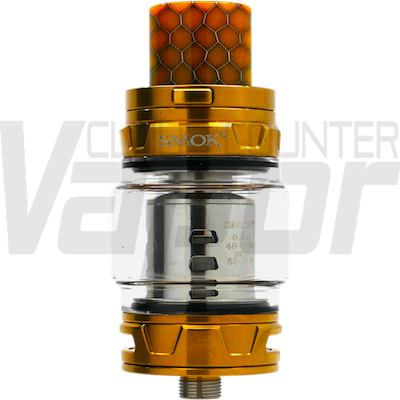 Smok belongs in any discussion of sub ohm tanks. If you've been vaping even for a short time, you've probably come across one of their products in one form or another.
Originally founded in 2010, their parent company IVPS has been been a leader in vaping R&D, sales, and marketing for years. Smok has risen to stardom as their flagship brand, reaching millions of customers all around the world.
The TFV12 Prince Tank is no prince; it is truly the king among sub-ohm tanks. SmokTech has graced the vaping world with a proprietary coil and structural upgrades to its previous TFV8 model that make this device truly one-of-a-kind.
This tank is designed with food-grade glass, featuring high temperature resistance, giving the juice chamber enormous durability.
The tank itself is more functional than it used to be, showing off a push-button flip-top cap that locks to keep your tank clean and leak-free.
They even upped the size of the chamber itself; this tank boasts a colossal 8ml e-liquid chamber, making it one of the most enormous sub-ohm tanks you can get your hands on. This way, you won't have to constantly be refilling as you vape throughout the day and beyond.
The mouthpiece is made from a sleek-looking dried resin, which feels great on the lips and doesn't dirty too quickly. It's got an adjustable airflow control setting along the base that gives you complete freedom to dictate the comfort and power of your vaping experience, even if your preference changes throughout the day. Plus, its stainless steel body makes it one of the toughest and hardiest devices on the market (not that we recommend dropping your tank!)
The actual vaping experience is second-to-none. As far as we can tell, the TFV12 Prince tank is among the most customizable regarding airflow control, and that means your experience doesn't go stale. Whether you want a milder vape or a powerful rush of flavor, this tank can meet your palate's exquisite demands.
Recap
| Pros | Cons |
| --- | --- |
| Stainless steel body | Factory coils can be leaky if not set in just right |
| Food-grade reinforced glass tank | |
| Locking drip tip | |
| Super wide bore mouthpiece | |
| Highly adjustable airflow | |
| Huge capacity | |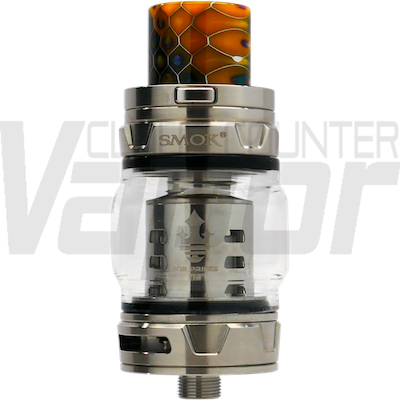 The guys at Smok love to get their hands dirty. They manufacture vapes of all types, from basic e-cigs to complicated rebuildable tanks and atomizers that deliver the ultimate vaping experiences.
They've launched all kinds of products and programs, even a social media app to connect vapers!
Smok prides themselves on high-quality customer care and service.
They love hearing feedback from their fans, and they use it to mold the future of their products.
---
Why Is Sub Ohm Vaping So Superior?
Well, the answer is simple science. In electrodynamics, the more voltage there is versus low resistance, the more current can pass through the circuit.
Historically, a lot of vape manufacturers focused on delivery tons of power to their devices, but there are limits on how much energy should be safely coursing through a device in someone's pocket. As a result, the more sensible solution is to focus on lowering the resistance as much as possible.
Electrical resistance is measured in ohms; ie, the fewer ohms in a coil, the more electrical current that can pass through. Because metal is a strong conductor of electricity, this means you actually need to thicken the coil to give it more surface area, and thus, fewer ohms of resistance to current. Most vaping devices operate between 1.5-3ohms. A device that operates under 1 ohm is called a sub ohm tank.
As mentioned, the biggest benefits of this scheme are: better cloud production, better taste, and a smoother feel to the vapor. Sub ohm tanks are so much more productive than other types of vape tanks; you'll find yourself spinning circles around your friends' clouds. Higher resistance devices simply can't pump out as much vapor as quickly as a device that lets the current flow more freely.
Now, this isn't to say that sub-ohm vaping is perfect. There are a couple of important drawbacks that you should be aware of as a consumer, since they can affect both your experience and your pocket book. Sub ohm vape tanks tend to use a lot more e-liquid, since they're vaping more rapidly and at much higher temperatures.
They're also simply more complicated; even devices that are built to be user-friendly still require you to learn about their operation and electrical output in order to use them in a way that's efficient, high-performing, and long-lasting. Lastly, they're not compact at all; sub ohm tanks are typically pretty large and hard to keep discrete.
There are a couple different kinds of power regulation schemes you'll find in sub-ohm tans, too.
Variable Wattage
Variable wattage mods make power regulation easy. You simply find the right wattage setting where your juice seems to taste and cloud up the best, and leave it be.
As you change coils out, your mod will regulate the resistance to the new coil automatically so that you don't have to reconfigure your device. This gives you ultra-fine control over how much power you're channeling through your atomizer.
Temperature Control
Temperature control works in a similar way, except instead of directly manipulating wattage, you're simply telling your device exactly how hot you'd like your coil to heat up to.
This sort of device is much more user-friendly and accessible to newer vapers who don't have much experience with electrical circuits, vaping hardware, and different types of mods. Plus, since the same wattage can heat different coils to unique temperature, this type of control offers the benefit of a consistent temperature no matter what atomizer you're using, leading to a more consistent experience,
A Note About Mechanical Mods
You may have seen or heard of mods that you have to build entirely yourself, including planning the power consumption and resistance in the atomizer. Simply put, mechanical mods are unnecessarily hazardous, and we do not recommend using them.
In 2018, there are so many regulated-power mods on the market that it's simply safer, easier, and far less time-consuming to use one of these in place of a complicated mechanical mod.
What's that? Your friends are swearing up and down that mechanical mods are the only way to get amazing cloud production and flavor? They clearly haven't tried some of these high-performance devices
What to Know About Sub Ohm Vaping
There are a few different types of tanks that work with sub ohm vaping.
Rebuildable Drip Atomizers (RDAs) were the first type of sub ohm device on the scene. These hookups were smaller than normal vape tanks and attached to a mod piece with an atomizer and some cotton. After taking a few hits, you have to add more liquid to the cotton to avoid your hits drying out. Talk about work!
Rebuildable Tank Atomizers (RTAs) served as an upgrade to the RDA. These devices function the same way as RDAs, but they feature a tank built onto the coil, so you didn't have to continue dripping juice in every few puffs. RTAs have excellent cloud production, and amazing taste.
These days, there are entire rigs built for sub-ohm vaping. In the past, you would've had to purchase a box mod, a battery, a special type of wiring, and a special kind of cotton. Now, there are entire sub-ohm kits available that you can attach to practically any mod.
What about E-Liquid?
For sub ohm devices, your choice of e-liquid plays an important role in the final vaping experience that you enjoy. There are some kinds of vape juice that aren't designed for the high temperature output achieved by sub-ohm device, rendering them flavorless (or, worse, awful-tasting) and difficult to vape.
E-liquid made for sub-ohm vaping needs to be mixed to just the right PG/VG ratio in order to properly accommodate the extra power of a sub-ohm tank.
You want to look for vape juices with really high VG concentrations, as these are better for handling the high output from your device. Plus, if the e-liquid is made with substandard ingredients, they may simply taste burnt at too high a temperature. A good vape juice maker knows to test their products up against a variety of intense conditions; read some reviews before you buy if you're not sure which juices will work well with your sub-ohm tank.
Direct to Lung Vaping
A lot of ex-smokers and even vapers with more traditional e-cig devices are "mouth to lung" vapers. This means they first draw vapor into their mouths like sucking on a straw, then they inhale it into their lungs. Sub-ohm tanks are great for cloud chasers, and with the heavy cloud production they afford, it's simply a waste to vape them mouth-to-lung.
Sub-ohm tanks are much better suited for mouth-to-lung vaping; this is a big reason why a lot of vapers choose low nicotine concentrations in their vape juices. They're simply so powerful that you get a strong delivery of nicotine off of just one or two good hits. This style of vaping also changes the amount of throat hit you might be used to from your favorite e-juices.
A Quick Note About Sub-Ohm Vaping
Please be aware that sub-ohm vaping is more involved than simply opening up a package you bought at the gas station and taking a puff.
These devices are complicated, and, while they're built to be user-friendly, are important for you to understand if you choose to purchase one. Never use a a short or flat 510 on a hybrid device.
Your mod's connectors should match the connectors on your sub ohm tank, and if it doesn't, you shouldn't try to make it work anyways. If you just don't know exactly how a particular product is works, research it first. Do not use it until you understand it.
The past few years have seen an explosion of innovation in the vaping industry. Sub-ohm tanks have taken over as the apparent king of high-end cloud chasing, and these versatile devices have now become a standard among even newbie vapers.
We're excited to see what new technologies the future has in store for us. In particular, we'll be keeping our eyes on Vaporesso, Uwell, and SmokTech; who knows which label will top our "best-of" list for 2020?
If you haven't yet made your foray into sub-ohm vaping, there's no time like the present to do so. These devices have sharply fallen off in price now that they're more widely available and they've been come so popular.
You could check out the Vaporesso Cascade Tank for a highly customizable experience.
If you're less technically inclined, Uwell's Crown 3 tank is a great fit for you.
If you want the absolute best performance that money can buy, then you're selling yourself short if you buy anything but the SmokTech TFV12.
No matter which choice suits your needs best, we're confident that you'll love your new sub-ohm tank so much, you won't want to go back to vaping any other way.
After you've checked out one of these awesome new tanks, drop us a review to let us know what you think. No endorsements are more genuine and valuable than those which come from our loyal fans themselves!
Recent Posts
We're here with the latest in vape tanks so you can save time in your search for the best one. Se …

Sub ohm vaping has become one of the hottest trends in vaping today. Sub-ohm devices offer a rang …

2019 has been a great year so far for vapers everywhere with more new brands and flavors showing u …