2019 has been a great year so far for vapers everywhere with more new brands and flavors showing up on the market than ever. Vaping seems to be taking off like a rocket all over the planet, and there's never been such a vast array of choices.
We know it's tough to pick from so many great options, so to make things easier, the Cloud Counter team put our heads together and gathered a list of our best selling and most popular vape juices this year, along with our own thoughts on them.
The e-juices listed below are a combination of our staff and customer favorites. They've been picked according to a combination of their popularity, company reputation, flavor profiles, vape quality, and more. While they're in order from 1 to 10, we consider each one of these to be a winner. You really don't want to miss out on any of these spectacular flavors; they're some of the best juices you can get your hands on.
Without further adieu, here are our top rated e-liquids: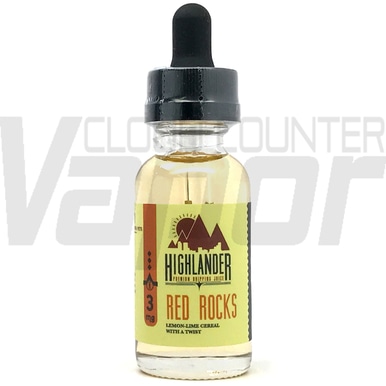 10. Red Rocks by Highlander
Starting out our top 10 vape juices comes a name that you're probably familiar with if you're an experienced e-liquid connoisseur. Highlander, like most of the producers on this list, is a highly popular brand among today's vapers, and their expansive array of products has been getting more attention within the industry. Their juices are fairly priced, they're marketed extremely well, and the flavors are as pristine as you'll find anywhere. They smell so great that you'd better be ready to share.
This particular blend was inspired by good times had at the Red Rocks amphitheater in Jefferson County, Colorado, a truly special spot to see a show, and a hidden gem in the American landscape. It's a tangy and sweet treat that we can't let you miss out on. It's one of Highlander's best blends, and for good reason - you'll have to try it for yourself to experience the goodness.
Flavor Profile
The primary flavors that serve as the base of this e-liquid are the succulent apricot mixed with tasty guava. It's got a strong touch of creaminess, and it's almost got the sensation of a breakfast cereal made from lemon and lime. There's a bit of watermelon to underscore the base flavors that make it just a little bit tangy and a bit tart. This is truly a sophisticated blend of classic flavors that creates a surprising new fruit sensation. The mouth feel is supple and rich. It's a full-bodied vape juice with a moderately strong throat hit. It's a great flavor to enjoy all day, as it really caresses the whole palate.
This is one of those e-liquids that's great to puff on over and over again because it's got so many things going on at once, making it a great ADV. There are so many different flavors to explore in just one puff that you don't quite get everything the first or second time. You really have to play around with it and pay careful attention to your vape's settings it to get the most out of this tasty juice. It's great for a veteran vaper who's looking for something a little bit more complex to add to their repertoire.
Use the code WINNINGJUICE at the checkout for 10% off + free shipping
---
9. Experiment One by Teleos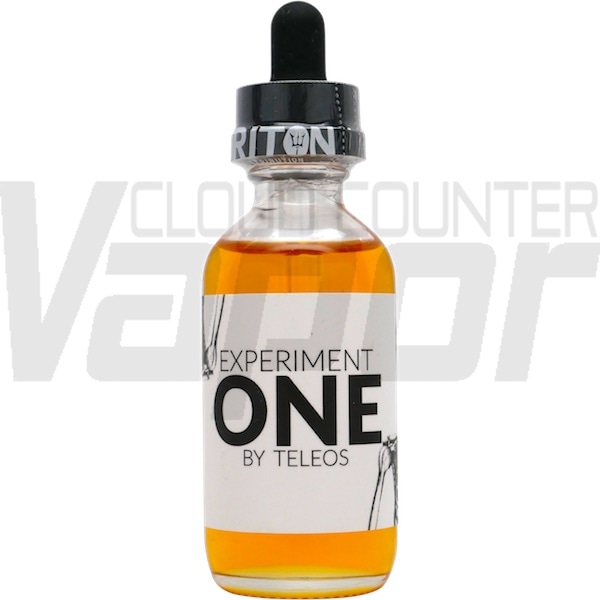 Teleos has long been one of the most trusted and popular vape juice brands on the market. The expert juice makers behind their premium products make it their goal to craft products that are truly unique, creative, and even a bit surprising. This has been their mission ever since they set out to become revered e-liquid makers; as a result, their very first product is called Experiment One!
They came up with the idea to replicate the delicious experience of one of the world's most popular flaky breakfast cereals… but accidentally (and fortunately!) wound up with a concoction that's actually a lot more like sweet corn with pudding. It was one of the happiest little accidents they could've hoped to have, as their unique flavor resulted in a creation that, to this day, is still a flagship that represents their brand and their passion for creativity and expression.
Flavor Profile
You can tell right away what they were going for with the whole breakfast cereal idea when you taste this interesting combination. It's got that creamy milkiness that most breakfast vape juices have, but the base is primarily a rich vanilla pudding with notes of sweet corn, which is a unique flavor in vaping you won't find anywhere else. The exhale, more than the draw, is where you'll get the unique flavor of the corn. The inhale and exhale are well balanced, though the flavors are somewhat different. The mouth feel is very soft; it's a light and rich experience overall, with just a touch of sugar to give it a decadent sweetness that makes this a truly tempting e-liquid.
It's crazy what they were able to come up with by starting with a completely different goal. This juice is a great choice for a the sweet tooth that's tiring of the constant barrage of fruit flavors that have saturated the market. If you like tobacco juices, you can add a pure tobacco blend to Experiment One to give it a unique twist that you won't soon forget. This juice breaks into our top 10 list because it's truly one-of-a-kind. The taste is sensational, it plays well with other flavors, and it's suitable for practically any time of day, any time of year. Teleos's very first product continues to reign supreme at the top of their line.
Use the code WINNINGJUICE at the checkout for 10% off + free shipping
---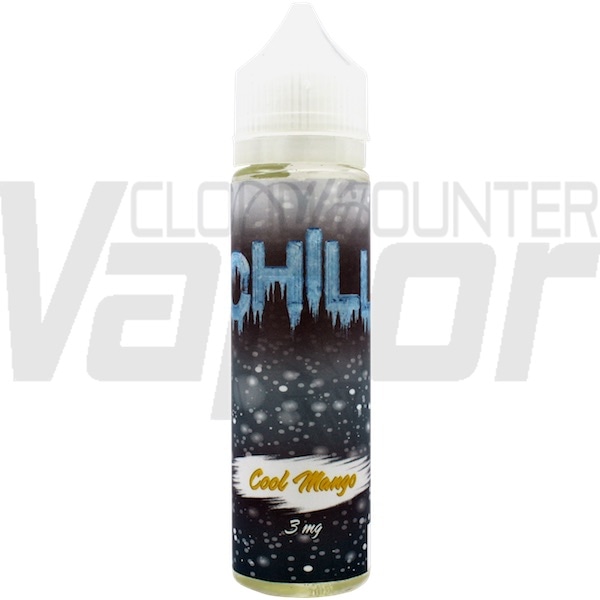 8. Cool Mango by Chill Premium E-Liquid
Chill Premium E-Liquid has soared to popularity for providing some of the most refreshingly satisfying & cooling vape juices you can find today. Each of their products has some kind of icy twist that gives them the cool refreshment that some vapers just love to have in every puff. At the surface, they seem like your run-of-the-mill juice maker, featuring traditional flavors like melon, peach, lime, and other common fruits in their e-liquids. But what makes each of them unique is a blast of frigid koolada in every bottle that chills those typically warm fruit flavors. Every puff is a sharp and icy blast of refreshment. If you, like so many vapers, just prefer something cool and minty over something warm and sweet, you've got to try Chill Premium E-Liquids.
Flavor Profile
The flavor of this juice itself is relatively simple. It's a mango base, with a decadent fruity and tangy flavor that's well balanced across the pull and the puff. The sweetness is a little bit more present as you inhale, with the icy goodness really rounding out the finish. You get a nice blast of the icy koolada flavor, but it's not so overwhelming that you only want one or two puffs. Additionally, the mango flavor is fresh and fruity, not sweet like an artificial candied flavor. Mangos are a familiar treat to everybody, and with the added coolness of the koolada, this blend is a great twist on a classic flavor.
As you can imagine, we'd recommend this juice more for the hotter parts of the year; we're thinking summertime, kicked back on the beach with a pina colada, vaping the day away in the warm sun. Mango is a highly popular choice for carrying around as an ADV, and with the cool, refreshing twist in this blend, you'll want to puff on it over and over again. Additionally, it's the perfect first choice if you're not sure which of the Chill Premium E-Liquids is right for you. They're all a bit unique, but Cool Mango may very well be their most basic and accessible variety. It cracks our top 10 for all of these reasons, and more. Just like #7, it's a great juice for home mixology, being a simple fruit flavor with a cool spin. The koolada itself adds a punch of iciness, but it doesn't alter the mango flavor. This is a diverse flavor that serves so many purposes, we had to put it on the list.
Use the code WINNINGJUICE at the checkout for 10% off + free shipping
Buy Chill Premium E-Liquids - Cool Mango
---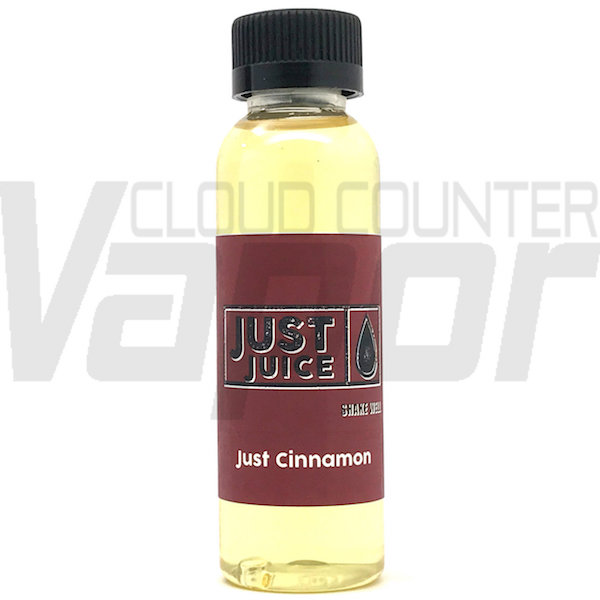 7. Cinnamon by Just Juice
Just Juice is easily one of the most popular vape juice companies around. They've been in the game for quite some time now, and they offer exactly what every vaper winds up trying to find at some point; pure, clean, no-BS flavors that give you exactly what you expect. Strawberry, Mango, Grape, Cherry, Blueberry… the list goes on quite a long way. Each of these flavors is built into a 70/30 PG/VG ratio, and steeped to perfection. No frills, no funny business, just the exact flavor you're looking for when you buy. Some vapers are straight shooters and know they want a specific flavor, and Just Juice gives them the freedom to enjoy just that.
It's no surprise that plenty of vapers just wanna get something simple and tasty. Not everyone needs something that tastes like an upside down shortcake pancake topped with ice cream, honey, and blueberries. That sort of complication isn't necessary all the time (even though it can be fun!) Just Juice's blends are all strong sellers, and they continue to release juices that simply taste great. As we say… the market doesn't lie. Cinnamon tops our list of Just Juice choices, and cracks into our top 10 because it's the perfect treat for enjoying by itself or for mixing together with other 70/30 blends to create your own concoctions at home!
Flavor Profile
Just like all Just Juice flavors, there are no surprises here. This "blend" tells you just what to expect right in the name. This cinnamon flavor itself is somewhat light-to-medium bodied, but balanced well between the inhale and the exhale. It's got a mild throat hit, but it's a little spicy! That's cinnamon for you. The exhale is just a little sweeter than the inhale, making it a nice contrast to the mild spiciness of the inhale. It's really great all by itself, but gives a little edge to other flavors, too.
Some of the most fun juices you can get are the ones that compliment other flavors that you have. We think this juice is a great choice, either for enjoying alone or for using in your home-mixing experiments. Whether you're new to vaping or you're a seasoned vaper, you'll be able to enjoy this decadent flavor time and time again. It's the perfect choice for any collection, especially if you like to experiment on your own. If that's the case, you have to have a big collection of different basic flavors, and cinnamon is so diverse that it can go with practically anything. Not only that, but Just Juice uses high grade ingredients, so you know you're getting something that's reliable and top-quality. For our top 10 list, we can't think of many e-liquids more deserving of a spot.
Use the code WINNINGJUICE at the checkout for 10% off + free shipping
---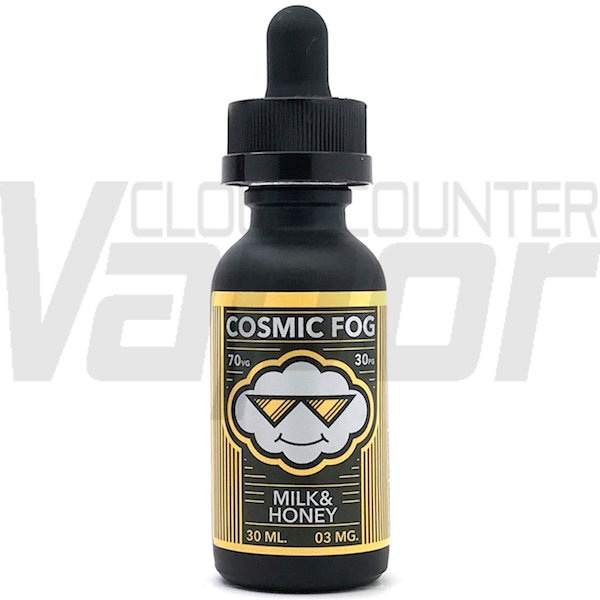 6. Milk & Honey by Cosmic Fog
One of the more popular premium e-liquid providers to smash onto the scene has been Cosmic Fog, out of sunny Orange County, California. Cosmic Fog, like many of our favorite juice makers, is one of those companies that's endlessly dedicated to producing top-quality products using top-of-the-line ingredients. Not only that, but they're so careful with each and everyone one of their new releases that they often take 6 months or more to tweak to perfection. It's their undying attention to the specialized processes that go into mixing e-liquids that makes them so successful. They've got one of the largest social media followings of any vape juice maker we've seen, and you'll see them at all kinds of events sharing their pristine products with the world. Above all else, they care about delivering their fans a product that tastes incredible and that they know they can rely on.
Flavor Profile
Each and every one of their products is uniquely crafted. They're all true masterworks. But, topping our list of Cosmic Fog sales is their simple but perpetually satisfying blend called Milk & Honey. It's become their flagship vape juice for good reason. It's balanced to perfection; the creamy and milky flavor you get on the inhale is highlighted with notes of marshmallow, with rich honey sweetening it throughout, but particularly on the exhale. It's among the lighter blends on our list, with a silky, creamy, puffy mouth feel that won't leave your palate overly saturated. It's got a very subtle throat hit, and the aroma is pleasing to the nose. We can't overstate how creamy, sweet, and satisfying this great combination is.
As always, Cosmic Fog has come up with a concoction that you'll want to vape day in and day out. This one is still a part of our recommended rotation, and we love vaping on it all the time. It's an awesome starting flavor for a newer vaper who's looking for a milder flavor that's still rich and satisfying. It's great for after a meal, or for satiating your snack cravings during the day. As a result, it's a good juice for carrying everywhere you go. Milk & Honey easily tops the list of Cosmic Fog juices. It joins our top 10 because the numbers don't lie; it's a fan favorite, and the taste is tantalizingly good.
Use the code WINNINGJUICE at the checkout for 10% off + free shipping
---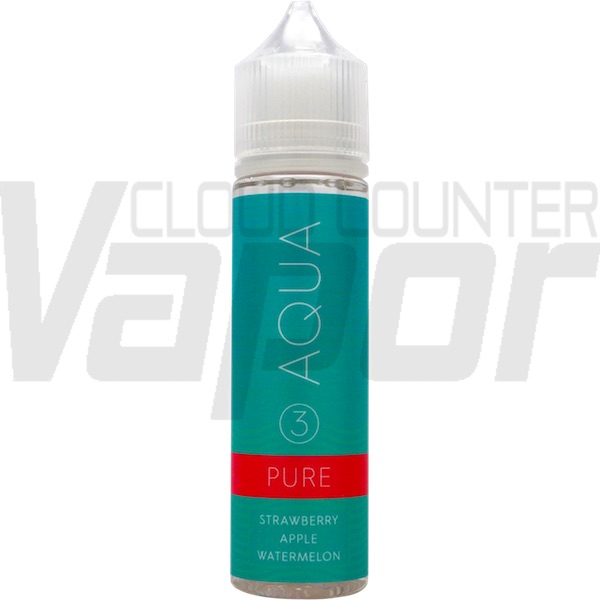 5. Pure by Aqua
Aqua has been around for a while, and has taken hold of a passionate fan base that seems to grow and grow every single year. This isn't the first time that Aqua vape juices have been among the best-selling vape juices around, and it's no wonder why. They continue to produce a top-quality product that never gets old. Their brand is geared towards the vaper with an active and outdoorsy lifestyle, but their products are so accessible to any and all that it doesn't really matter how they try to market themselves. Their e-liquids are a must for absolutely anyone who likes classic fruit flavors.
Additionally, Aqua is one of those lines that's committed to high-quality and reliable products. Each and everyone one of their bottles is crafted in the best of conditions, and their products don't need to steep at all to taste great right from the time you open them. All of their flavors make for great ADVs.
Flavor Profile
Pure by Aqua is an e-liquid that celebrates three of everyone's favorite fruits to vape on: succulent watermelon, crisp apples, and decadent strawberries. Simple as this blend is, it's the perfect addition to any collection. If you're an experienced vaper, you've certainly tried all of these flavors by themselves, but when mixed together, this medley of fruits creates a unique flavor sensation. It's not too powerful; on the contrary, it's very smooth and sweet. The most noticeable flavor is easily the watermelon, which is good and tangy, but not sour. The fresh apple flavor highlights it nicely, and the same goes for the strawberry flavor, which you get more of on the exhale. The mouth feel is soft and silky, with just a touch of cream.
True to form for Aqua, Pure is a great choice for vaping on all day long. Put it in your ADV rotation and you'll be looking forward to it all week long. It truly does make for a great flavor to go along with a hike, jog, or day in the sun. It's tasty but it's not overly saturating. It's light bodied, so it's not so powerful that it distracts you from your physical activity. Pure has reached our top 10 list because it's great in so many different environments, it tastes great, and the customers have spoken: they love Pure by Aqua!
Use the code WINNINGJUICE at the checkout for 10% off + free shipping
---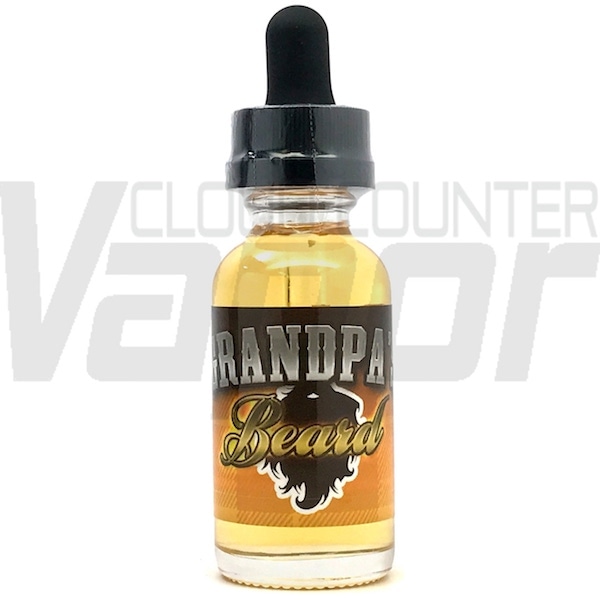 4. Grandpa's Beard by Vapor Technologies Austin
Vapor Tech Austin, from the heartland of Texas, is one of those juice makers that's got a die-hard commitment to crafting top-of-the-line products. This means only the finest ingredients and flavors that can appeal to vapers of all kinds with any type of palate. They boast that they've developed a super-secret "flavor building" technology that helps them make vape juice blends that you can't find anywhere else. Skyrocketing to success is one of their flagship products, a quasi-traditional tobacco blend that celebrates the grand-dad that made all of us possible.
Flavor Profile
Grandpa's Beard celebrates the fine tradition of pipe tobacco, the aroma of which always seemed to hang around grand-dad's house over the holidays. The tobacco has just a touch of cream to soften it up, and then it's decorated with fine notes of butterscotch candy; the perfect match for the bold tobacco flavor!
This clever concept for a vape juice is the perfect tobacco blend for anyone who wants something a little more refined than just normal tobacco and vanilla. You'd never even think to go looking for this kind of flavor, but after you try it, you won't want to vape anything else. VTA has really outdone themselves with this blend, and you can really tell it was influenced by a truly inspirational man.
Use the code WINNINGJUICE at the checkout for 10% off + free shipping
Buy Vapor Technologies Austin - Grandpa's Beard
---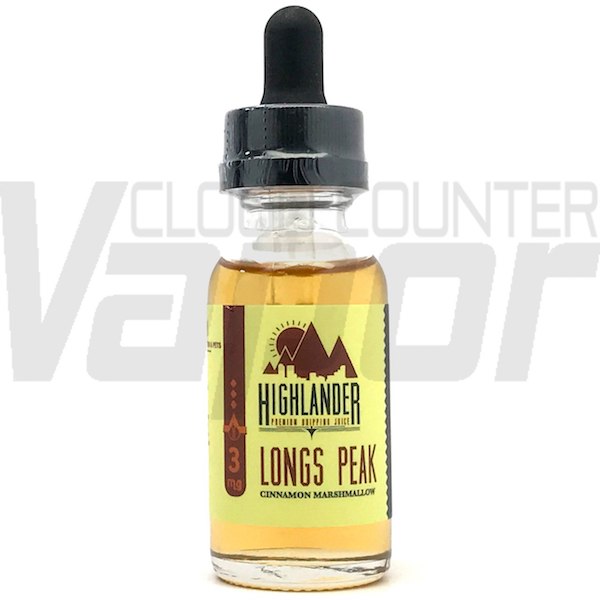 3. Long's Peak by Highlander
Highlander is one of those companies that offers an expansive variety of products; they were bound to strike gold with a couple of them. Long's Peak has been one of their best-selling flavors this year, offering a dessert-like sensation that's a nice change from the fruity flavors that are so dominant in the industry today. It can be hard to keep this one in stock, because it keeps flying off the shelves; just by word of mouth, they've spread like wildfire, gaining widespread fandom all over the world. Out of all of their wide array of Highlander e-liquids, Long's Peak stands out as their magnum opus.
Flavor Profile
Long's Peak has a warming sensation, with a luscious flavor that dances across the palate with a comfortable, sugary, cinnamon flavor. This medium bodied juice features a light marshmallow finish as you exhale, softening the strong (but pleasant) cinnamon sweetness. It's one of the more mild vape juices among our top 10 list, although, the cinnamon flavor is very bold and present. The marshmallow gives it the perfect balance, softening the more intense rush of the cinnamon. It's great for puffing on all day, and it doesn't leave much of an aftertaste at all; you might even forget you've recently been vaping on it! Cinnamon and marshmallow is a rare flavor combination, but Highlander has found that they complement each other perfectly. It's a twist that you're unlikely to find anywhere else.
It's this uniqueness that's made Long's Peak earn its place among our coveted top 10. Not only does it taste absolutely great, but it's a combination that's pretty unique and unusual. You're not going to find this flavor just walking into any vape shop. It's endlessly satisfying; honestly, it's hard to overstate just how enjoyable this flavor can be. It's a good choice for any time of day, particularly because it's lighter in character and doesn't leave you with a strong aftertaste. You can enjoy it before or after eating, at the beginning or the end of the day, or anytime. It could easily become your next ADV.
Use the code WINNINGJUICE at the checkout for 10% off + free shipping
---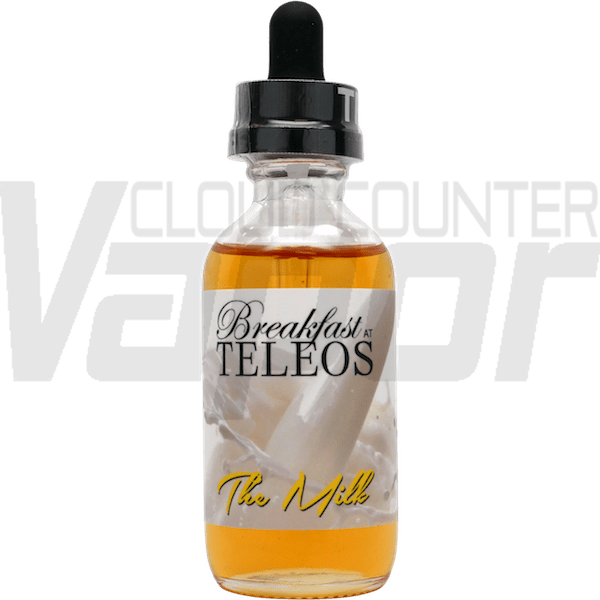 2. The Milk by Breakfast at Teleos
Teleos is one of those e-liquid companies that just seems like they can't get anything wrong. They've been on the scene for a while now, and still continue to dominate the market as a best-seller.
Teleos is, at its core, just two dudes who know practically everything there is to know about vaping and making vape juice. They're almost frustratingly meticulous, never releasing a new product until they've gotten it exactly the way they want it. It can sometimes take them months at a time to come up with a creation that meets their elite standards. They fastidiously examine, analyze, tweak, and test their flavors at each point in the blending process. Their products are truly unique, even in such a crowded market.
They've released numerous product lines, and Breakfast at Teleos earns a spot high up on our top 10 list. It's a line of juices that celebrates your favorite breakfast-time experiences. The Milk, at the surface, sounds plain and boring. Why would this be such a highly-coveted vape juice, you ask?
Flavor Profile
This juice is so much more than simply milk. The clever masterminds behind this e-liquid were inspired by their obsession for the Momofuku Milk Bar in Brooklyn, New York. This unique little cafe offers a jar of milk soaked in Fruity Pebbles cereal. As you can imagine, this gives it a fruity, candy-like sweetness that's silky, rich, and creamy. At the milk bar, the beverage is carefully strained to make it smooth and pure. The Milk's take on this creative drink strongly reminds you of slurping down the milk at the end of a tasty bowl of sugary cereal. But unlike the lukewarm milk you have after breakfast, this tasty e-liquid is fresh and delicious hit after hit! It's very smooth, and somewhat light-bodied, so you'll enjoy puffing on it all day long.
It's hard to keep up with the demand for The Milk, and it's clear why. The market is speaking for itself. We love the taste, our customers love the taste, and we know that if you haven't tried it yet, you'll love the taste, too. There's no arguing with the numbers, and this flavor is selling like crazy. Make sure you get your hands on it before we run out! The Milk sits at #2 for 2018 because its mouthwatering flavor is one you'll wish you'd tried a long time ago.
Use the code WINNINGJUICE at the checkout for 10% off + free shipping
Buy Breakfast At Teleos - The Milk
---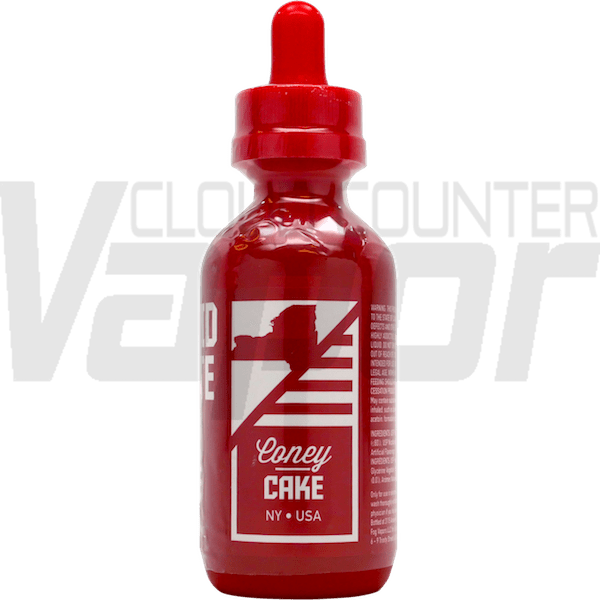 1. Coney Cake by Liquid State Vapors
The appropriately named Coney Cake has been selling like friggin' hot cakes. We've been seeing an explosion of orders since we started stocking the top-selling product by Liquid State Vapors. It's no wonder, why, either. A lot of vapers really care about where their e-liquid comes from. After all, it's a product they're putting into their bodies. It's incredibly personal. So, we find that a lot of folks prefer to know that their products are made in great conditions, using top-quality ingredients, and in many cases, that they're American made.
Liquid State Vapors isn't just American born and bred, but their entire product line is designed to celebrate varying aspects of America's cultures and traditions. It's probably one of the biggest reasons their products have resonated so well with their fans. Not only do they taste great, but they've got a little slice of home in every puff. LSV takes great care in everything they do, from the ingredients they blend into their products to the quality packaging it's delivered in. They truly represent the values of the patriotic American; they're hard-working, quality focused, and community-driven.
Flavor Profile
Coney Cake itself is a delicious funnel cake treat, following in the boardwalk traditions of New York City. It's a pleasingly accurate recreation of your favorite summertime treat; it's got a sweet, puffy, doughy base with highlights of tasty powdered sugar. Then comes the twist! It's topped with a heaping scoop of vanilla bean ice cream (of which there are strong notes highlighting the funnel cake flavor) and it finishes off with a subtle medley of berries, giving Coney Cake a truly sophisticated flavor profile.
Many of the best vape juices out there are the ones that capture the essence of some other treat we enjoy. Coney Cake does exactly that. It works great as an ADV because each of its many flavors is good for enjoying anytime, and you won't get bored puffing on it with so many different tastes to enjoy. Considering all of these great benefits, we couldn't put Coney Cake anywhere but #1 on our list for 2018.
Use the code WINNINGJUICE at the checkout for 10% off + free shipping
Buy Liquid State Vapors - Coney Cake
---
What's Your Favorite Vape Juice?
As we move farther into 2018, there's bound to be new flavors galore - but don't forget about these classic favorites from this past year. All of the juice makers we've featured on our top 10 list are still out there concocting some of the finest juices you'll find on the market, and you won't want to miss out on their new offerings.
So the list doesn't stop here - we want your opinion too for our picks next year! You can leave a comment at the bottom of the list to let us know your favorite e-juices to make your voice heard. We really hope you'll do your part in helping connect your fellow vapers with the right products for them. If you like any of these juices, drop us a review on the product's information page to share the love!
Find the brand that's right for you, drop us some reviews, and keep on vaping. Which one is your favorite? Let us know in the comments below and we'll take it into consideration for updates.
Recent Posts
We're here with the latest in vape tanks so you can save time in your search for the best one. Se …

Sub ohm vaping has become one of the hottest trends in vaping today. Sub-ohm devices offer a rang …

2019 has been a great year so far for vapers everywhere with more new brands and flavors showing u …